Crocheting has been my joy, passion and creative outlet as far back as I can remember. I always seem to have an on-going project. When I start something new I'll keep reciting that scriptural phrase, "Do not despise small beginnings". And then it will happen: The project will cross over to becoming an important piece to me and I won't want to stop until it is finally complete. There can be no better feeling than working hard to accomplished something from start to finish.
For the past thirty years, I kept myself challenged by designing my own patterns but never writing them out only to wish I had later on. Well, today it's my desire to devote more time doing just that. I decided to write out some of my favorite designs and to offer my collection to other hobbyist. I hope to present more of my patterns during the upcoming months and years.
In addition, the Silk Orchid Gallery can be commissioned to craft any of the items you see on our site. We enjoy combining different arts and techniques to create an overall unique look. Let us know your desires in advance and we can custom make it especially for you.
Sandra Avdonin
President & Senior Designer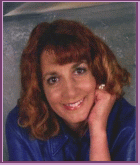 Silk Orchid Gallery
23291 Pleasant Valley Rd
Hillman, MI 49746
Telephone: (989) 742-2125

Have a question or comment?
Click Here